If you are looking for the top athleisure shoes that also work for running and/or working out I've got you covered. I have done the research and have narrowed it down to three styles.
When I worked for Adidas as a sales rep I was immersed in footwear and became a total sneakerhead. Even today, I still shop for running and athleisure shoes like it's my job. I am obsessed with great-looking kicks for athleisure outfits that also perform well in the gym. These are my go-to's.
Best Running Athleisure Shoes
I bought a pair of On Cloud running shoes last year not knowing how to pronounce the name or much about the functionality of the shoe, I just really liked the look of the shoe. In 2010, the brand was created with the goal of creating a shoe that had a cushioned landing and firm take-off. This makes sense because when I tried these out on a 4-mile walk I found them to be a little stiff (read: firm) initially in the toebox, but still fit well; however, over time they became more comfortable. They are like a Tempurpedic pillow for your feet, molding to your feet with every stride. They also look very fetching with a pair of leggings and hoodie for your afternoon Target run.
As an Adidas rep, I learned how seriously the brand takes innovation and technology. The running specialty crowd never really took them seriously until the UltraBoost was released. This shoe is exceptional. At $180 I had sticker shock when I purchased them because I didn't look at the price tag. I assumed they would cost between $120-$150 which was industry standard at the time. I am not sure if I would have purchased them had I seen the price before I got to the register so I am glad I didn't look!
These are so lightweight, so comfortable, and fit like a perfect glove. I love the sleek, minimalistic design. I have worn these walking, running, dancing and happy-houring and they perform outstandingly. They last forever without losing support or shape, I've had one of my pairs, (yes, this is a repeat purchase) for over two years (although it is recommended that you get a new pair of running shoes every 6 months). The added bonus, is they are made with Primeblue, "a high-performance recycled material made in part with Parley Ocean Plastic." Add helping the environment to the list of reasons to purchase these kicks!
The Idris Elba of running shoes: sleek, attractive, and a great performer!
I LOVE these running shoes for many reasons. My feet slide into the shoe so easily because of the "fit knit" upper, it hugs your ankles providing them with the love and affection they deserve. They are super comfy, the cushioning is like a pillow and they are incredibly lightweight. Additionally, Brooks is beginning to focus more on their female consumer (shocking what that will do for a brand!) and it shows; their color combos are on trend and there are a LOT of choices. They recently beat out Nike for the #1 market share in women's running. That's a big deal.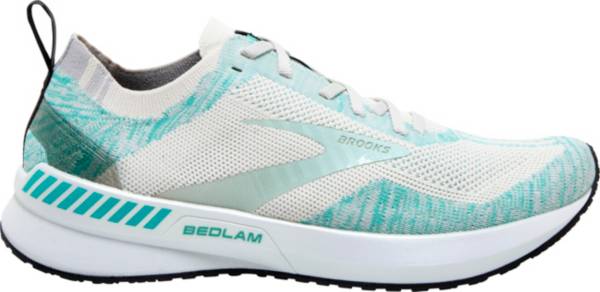 I recently purchased the heather grey, my second pair, because I loved my first pair so much.
Off to try and achieve that runner's high I have never gotten!
Peace, love, & Prosecco
Marcella
Heading
Subheading